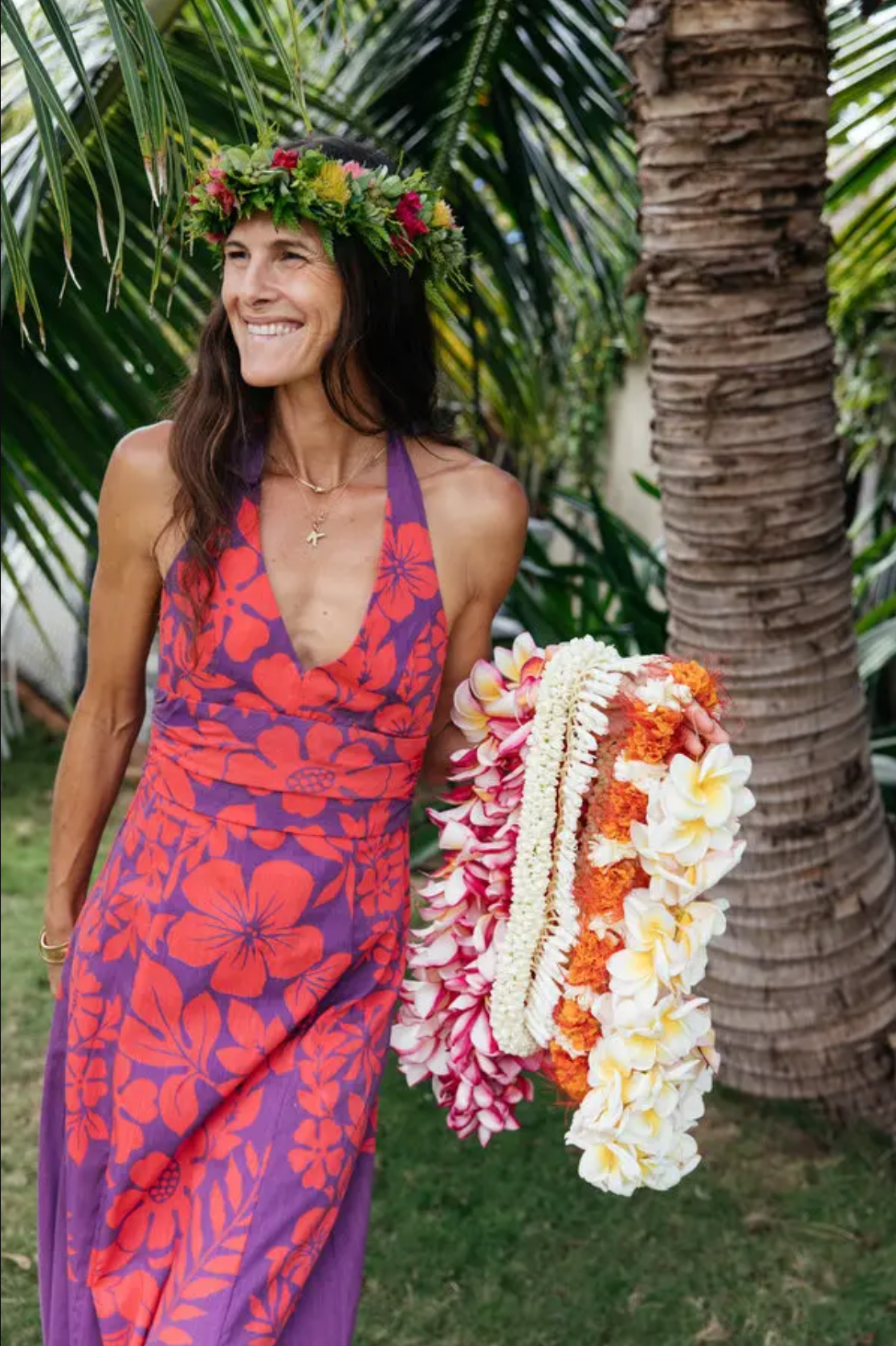 New York Times
"Lei making was such a staple of Ms. Estes's upbringing on the islands of Kauai and Oahu ("Even the wooden ducks my family would bring out at Christmas were adorned with their own neck lei," she wrote) that in 2015 she put her skills to use leading lei workshops on Oahu.

The success of the workshops, which she later brought to other Hawaiian islands and to Japan, led to the book. In early 2020, she broached the idea of co-writing a volume to Jennifer Fiedler, a local author whose family, like Ms. Estes's, has been in Hawaii for generations. It now is scheduled to be published in the United States on April 25 by Ten Speed Press."

Read the full article from The New York Times here.
Hawaiians make lei when visiting different places on the islands "just to celebrate the occasion of being there," Ms. Estes wrote.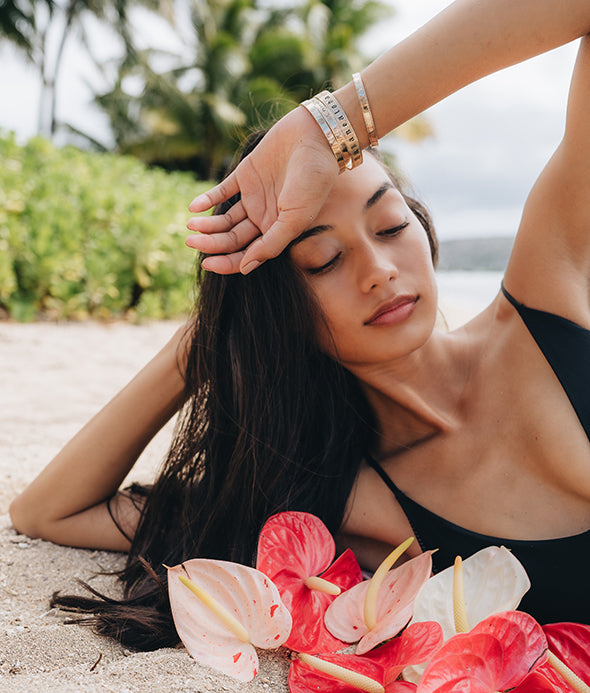 Harper's Bazaar
"Two lifelong friends, Hawaii natives, are modernizing an old, beloved local tradition with their meaningful new jewelry band, HIE.

Meleana Estes and Noël Shaw, born and raised in the distant islands, were each welcomed into the world like many Hawaiian women: their births marked by gold bangles engraved with their names."

Read the full article from Harper's Bazaar here.
"I couldn't go to a baby luau or graduation party or family gathering of any kind without hearing the clinking and clanking of the gold bracelets worn by all the aunties and peers," recalls actor Evan Mock.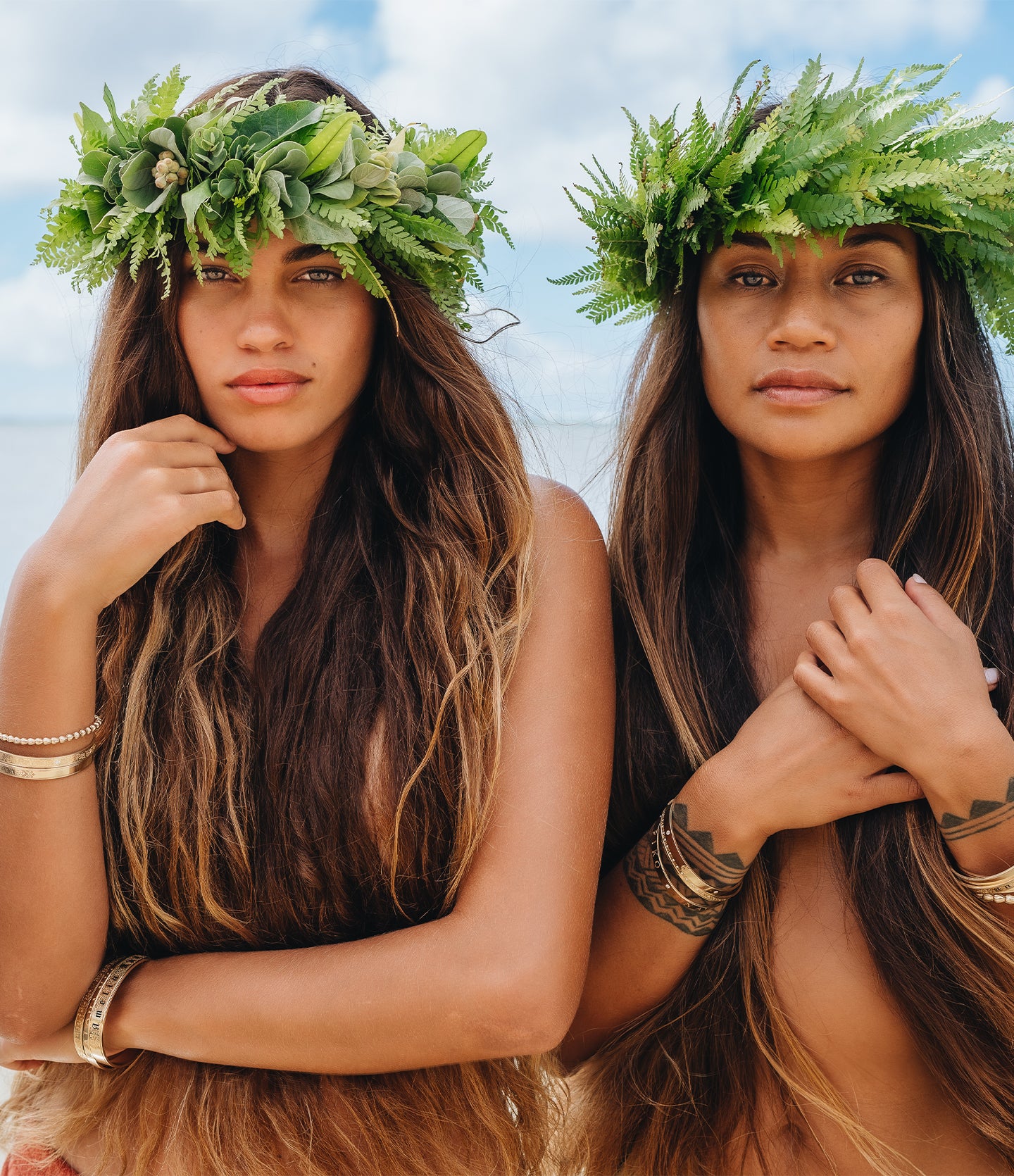 Town & Country
"Native Hawaiians Noel Shaw and Meleana Estes are looking to turn this notion on its head with the just-launched fine jewelry brand HIE by cultivating an old bracelet custom that has been passed down through the generations.

About four years ago, Shaw and Estes started the process of designing pieces in honor of their children, because the thought of not continuing the ritual was unthinkable. The design process ended up being quite involved—and the duo evolved into wanting to share the gold pieces with anyone who wanted to participate."

Read the full article from Town & Country here.
"We are so passionate about what these bracelets mean to us, to our families," says Shaw. "Each piece would prompt a discussion about our grandmothers and the women who came before us."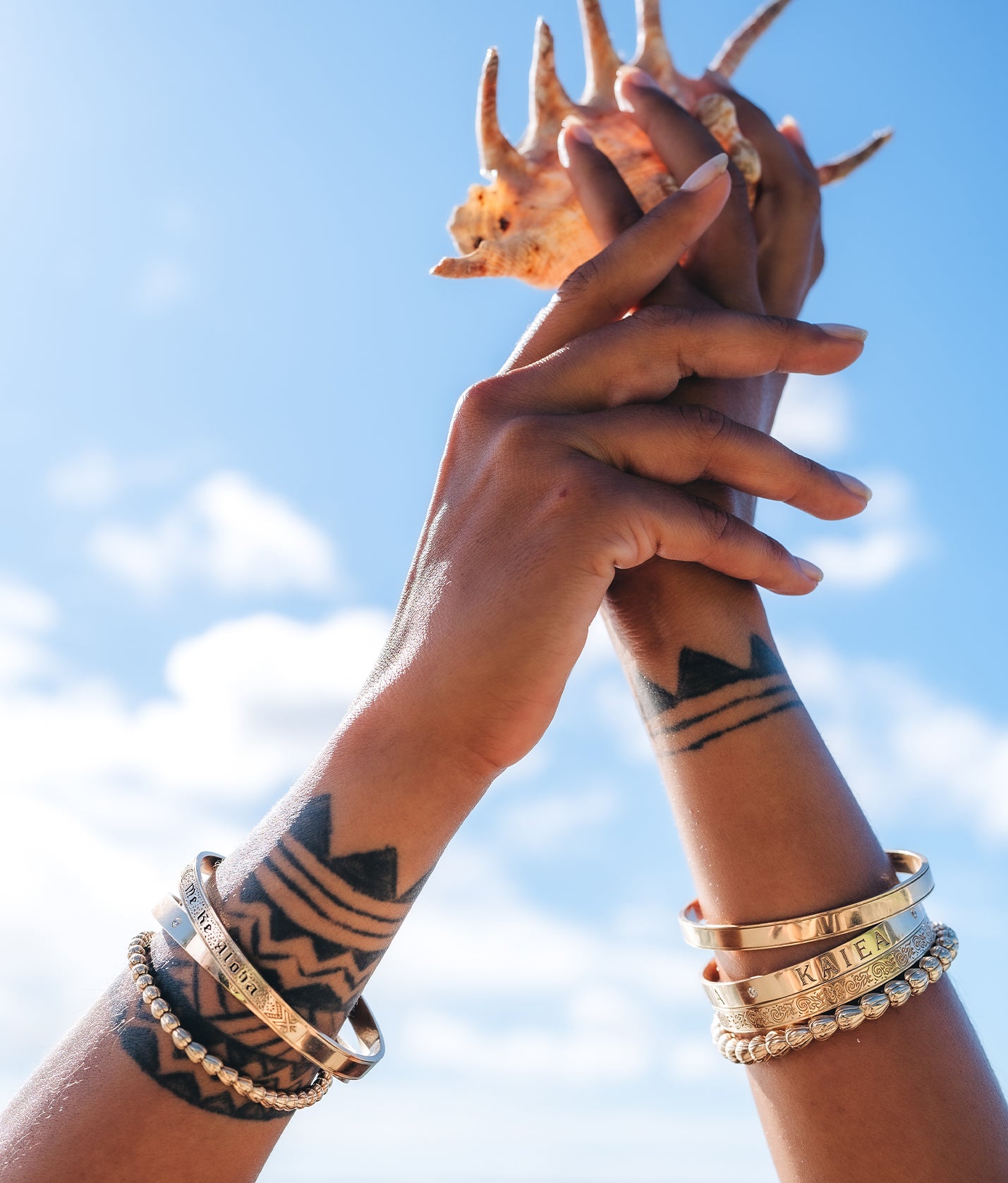 ROBB REPORT
"Designed to be worn tight around the wrist, the vintage bracelets, known for their black enamel Gothic lettering, are the inspiration for a new fine jewelry brand called HIE, founded by Estes and Shaw.

In addition to their vintage-inspired aesthetic, the HIE bracelets stand out because of their seductively sentimental qualities. Almost every piece is engravable—inside and out."

Read the full article from Robb Report here.
"They're such a part of you, such a precious thing, and many women feel safer with them on their bodies," Estes adds. "You have many pairs of earrings, but you only have one Hawaiian bracelet."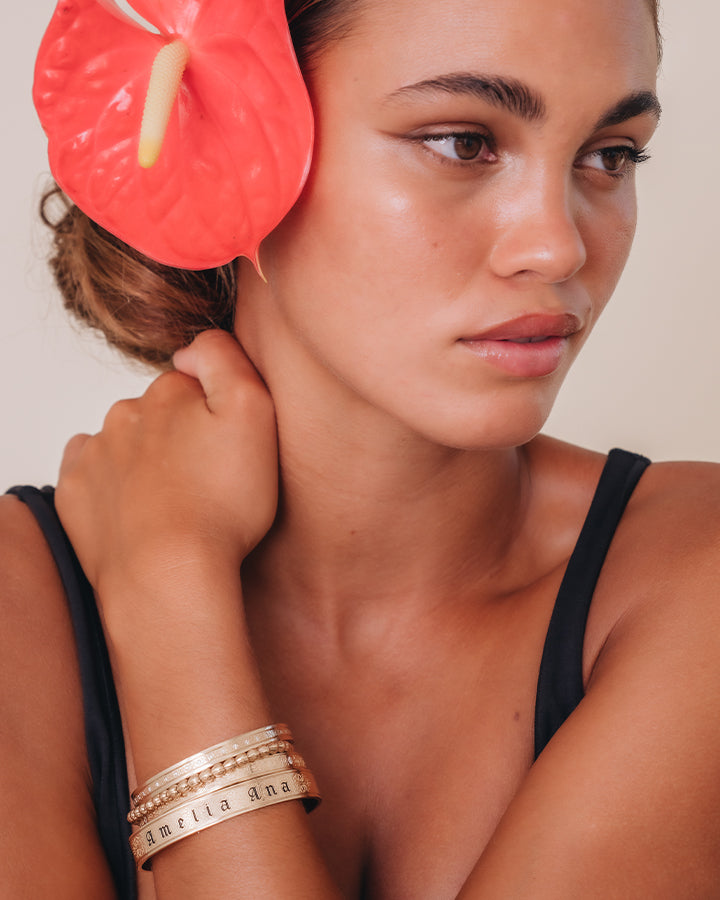 The ZOE REPORT
"You can hear Meleana Estes and Noël Shaw entering a room before you see them. Not because the lifelong friends and Hawaiian natives speak at a particularly high octave or live in loud stilettos, but rather because their wrists are awash with traditional gold Hawaiian bracelets.

Inscribed with family names, cultural designs, and sentimental phrases, their bangles are a mix of heirloom jewelry passed down from generation to generation and bracelets purchased for them by loved ones during pivotal moments in their lives. The jingle they make is melodic and distinct, and if you spend enough time on the islands, you'll start to hear it everywhere."

Read the full article from The Zoe Report here.
Says Estes, "I looked forward to my sixteenth birthday knowing that I would be gifted the bracelet my tūtū had made for my mom with my name on it when I was born."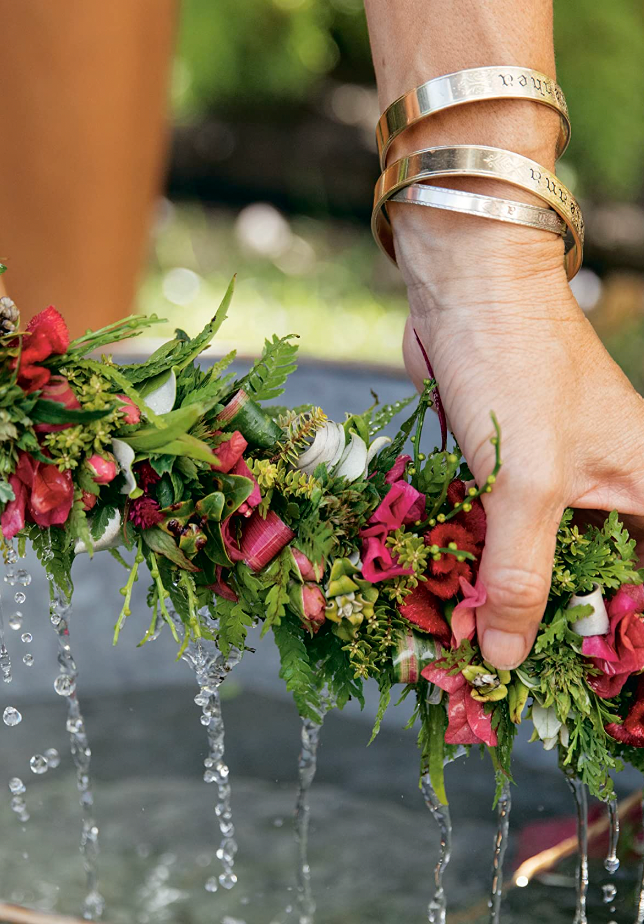 Town & Country
"We rounded up a selection of the best bangle bracelets to add to your jewelry collection.

HIE is a new jewelry brand that creates traditional Hawaiian bracelets designed to be passed down through generations, and this elegant piece with delicate diamonds is just one of many we have our eyes on."

Read the full article from Town & Country here.
"HIE is a new jewelry brand that creates traditional Hawaiian bracelets designed to be passed down through generations."